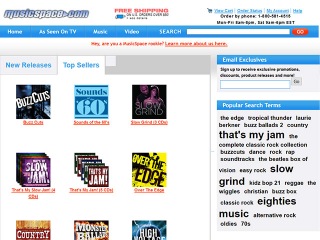 We currently have 2 Music Space coupons / deals.
About MusicSpace.com
Are you a big fan of music compilations? If so, MusicSpace is your new music shop on the web. This online music store is owned by one of the biggest producers of popular music compilations and offers great deals on hundreds of different titles.
Music Space is the best place to find great compilations like the Kidz Bop series, Worship Jams, as well as just about any CD set you've seen advertised on television. As a matter of fact, their "As Seen On TV" category is chock-full of great hits and awe-inspiring artists.
Read more...
When you purchase a music compilation from www.musicspace.com, you know you're getting albums full of songs you want from a multitude of artists, from the top 40 hits of right now, to blues and jazz compilations from decades ago.
This website also has a great selection of DVDs you won't find anywhere else—do-it-yourself titles, workout DVDs, and much, much more.
Close