PetFoodDirect Closed
Pet360, the parent company of Pet Food Direct, was acquired by rival PetSmart (owner of Chewy), and PetFoodDirect.com now redirects to Chewy.com. We still offer you many options to save with the latest coupon codes and deals on our Chewy Coupons and PetSmart Coupon pages. For discounts at other online pet stores, please see our Pet Coupons section.
Pet Food Direct Coupons & Promo Codes
There are no Pet Food Direct coupons available at this time.
Related Categories
Pets
Related Coupons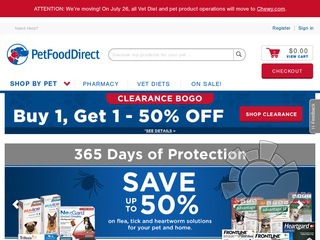 About Pet Food Direct
PetFoodDirect launched in 1997, and is owned by Pet360, Inc. who also operates Pet360.com, Only Natural Pet, and BlogPaws. Their goal is to help you find the pet food and supplies you need quickly and easiy, and deliver it to you affordably, so you can spend your extra time loving your pets.
Shopping at PetFoodDirect.com couldn't be easier. Just use their handy search feature to find exactly what you want, or browse by pet type: Dogs, Cats, Small Pets, Reptiles, Fish, or Birds. If you're looking for a great bargain, take a look at their sale department. You can also shop for all the pet medicine you need in their Pharmacy. Plus you can get free shipping with a minimum order.