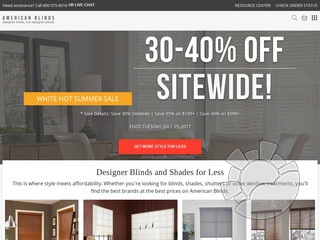 We currently have 2 American Blinds coupons / deals.
About American Blinds
Are you a nester? A nester is someone who spends a lot of time decorating their house, getting it more livable and comfortable. If this sounds like you, you should definitely check out American Blinds, Wallpaper and More at DecorateToday.com. Here, you can find everything that you need to get your house looking like it just came out of a home decorating magazine. If you aren't a nester, at DecorateToday, you can find everything that will make your house cozy and inviting, which will make you want to spend every minute at home.
Read more...
AmericanBlinds offers more than just blinds at www.decoratetoday.com, such as bedding, draperies, wallpaper, hardware, artwork, rugs and shutters. What's great about this online home store is that it is easy to find what you're looking for. For example, if you're looking for a new wallpaper for your guest bedroom, you can search based on what color you want a paper to be. Or, maybe you want a border paper to go around the chair railing. You can search based on the type of paper, what the paper is made of, and how you install the wall paper. This will make finding exactly what you need easy and pain-free. Don't worry; it's also this easy to buy draperies, bedding, rugs and so on.
What's great about American Blind & Wallpaper is that they not only offer great products, but they also offer a lot of information. If you've never hung wallpaper before, you can find someone locally to hang it for you. Or, maybe you're not sure about what you need to make a room in your house even better. If that's the case, you can ask a question to the decorators, and they'll give you some advice on what you can do to make everything work together. Another reason you'll like this online home decorating site is because they'll ship you samples of window treatments, so you can hold them up against the wall, making sure that they match with your paint or wallpaper before you invest a lot of money in them. This is just one more way that DecorateToday.com gives you all of the things you need to turn your house into a home.
Close