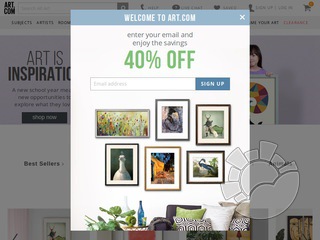 We currently have 1 Art.com coupon / deal.
About Art.com
All the finest artwork the world has to offer is at your fingertips online at www.art.com. Whether your good taste requires canvas art, tapestries or limited edition artwork you will find exactly the right piece of art for your space.
Search for specific works by artists as Quidley, Dougall, Goldberger, Romanello, Cappieloo, Piperberg, Fogstock, Gockel, Thoms, Ullman, Hill, Waterhouse, Jariwala, or I'Anson just as easily as for the most famous ones such as Monet, Van Gogh, Dali, Warhol and Georgia O'Keefe. Superb versions of all the most loved masterpieces are here for you to add to your collection.
Read more...
A huge selection of art subjects is also searchable for easy location of just the right conversation pieces to suit you and your discriminating tastes.
Artwork for those who enjoy humor, scenery, music, maps, cuisine or botanical themes are all on offer at excellent values for high end works. Still life, comics and animals as well as an impressive selection of book illustrations will perhaps inspire you in your search for the ultimately suitable gift for someone special as well. Online gift certificates are also available for ease of shopping for those who have their own indefinable tastes in decor and art. Sports art, emerging artists and limited editions can be found here as well.
Original art is also available here and you will want to check out the community of artists listed online at www.art.com for some superb examples of the modern day art world.
Close