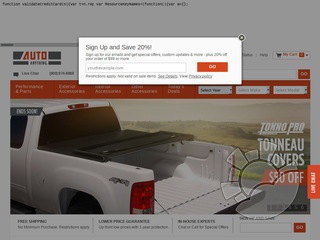 We currently have 4 AutoAnything coupons / deals.
About AutoAnything
Auto Anything means just what it says: anything automotive. Their selection is amazing. They are one of America's largest and fastest growing online retailers of specialized automotive products. The company and the website are committed to providing you with top quality products from trusted name brands. You will find custom and universal products that are designed to provide protection, comfort, safety, style and enhanced performance for all cars, trucks, SUVs and vans. The company was founded in 1979 by Selwyn Klein, who started by making and selling Blue Ribbon genuine sheepskin seat covers and custom carpet floor mats. In 1997, Selwyn was joined by his eldest son and together they expanded the company into an online retailer. His other son joined soon after. They always do what is in the best interest of the customer. They strive to offer the best service in the business and customer feedback is everything to them. Whatever your vehicle needs, they have it. You can be sure that you will be satisfied at autoanything.com.
Read more...
Shop by major category: Performance & Parts, Interior Accessories, Exterior Accessories, and Other Accessories. For discounts, hop right over to Today's Deals, where you'll find discounts, rebates, promotions, and other special offers.
Close