Baby Center Store Closed
BabyCenter.com used to be an online store, but now is an informational site for pregnancy and parenting information. To find other baby stores and get current discounts, please browse our Baby Coupons.
Baby Center Coupons & Promo Codes
There are no Baby Center coupons available at this time.
Related Categories
Babies & Kids
Related Coupons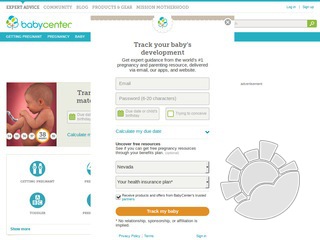 About BabyCenter.com
This award winning website features information, shopping, discussion forums and more for parents and parents-to-be. You can find countless ideas for baby showers, checklists to help get ready for baby's arrival, and the support of other parents and soon to be parents in virtually any parenting issue at www.babycenter.com. This online experience helps make the happy event even more so.
On the shopping side, all the major brands you trust are here as well as some you may not yet know of. Learn about the products and enjoy the secure online shopping with live customer service usually available twenty four hours a day for your convenience. The Baby Center.com site offers products for the nursery, baby clothing, maternity clothes, feeding and nursing, toys, books and gift ideas for baby as well as mom and dad.
Read more...
Changing tables, storage options and playroom furniture from Peapod, Emily and Cirque Etoile will get the baby room all ready before she's brought home from the hospital, while clothing and other necessities from Avent, Cool Gear, Fisher-Price, Eddie Bauer and many other trusted brands will get you and your child through pregnancy, infancy, the toddler stage and preschool. For parents, and moms in particular, products like vitamins and skin toners are on sale for a good pampering session when baby's asleep.
The Baby Center site has helpful articles on pregnancy, babies, and toddlers, as well as a supportive community and a huge baby store. BabyCenter.com is the leading site on the Internet for new and expectant parents. They offer original, high-quality content and practical advice from trusted sources, such as obstetricians, pediatricians, nutritionists, and fellow parents.
Close