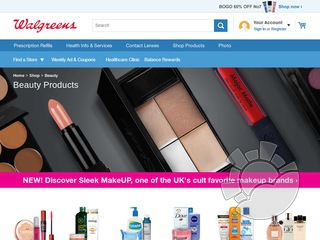 About Beauty
If you ever wondered if there existed a website where you could find pretty much any beauty product you need, this is it! Beauty.com is a huge, online beauty store that is sure to have just what you're looking for in cosmetics, skin care, hair care and makeup.
Explore a wide range of departments: Make Up, Skin Care, Bath & Body, Fragrance, Hair Care, Accessories, Men and Gifts. Here you'll find make up kits, eye make up, lip make up, face make up, nail accessories, facial treatments, anti-aging treatments, eye treatments, moisturizers, cleansers, men's and women's fragrances, hair styling products, hair treatments, brushes, hair appliances, bags, cases, shaving gear, men's skin care and plenty of gift items.
Read more...
The best brands are on this website as well, and just to name a few, you will find: 5th Avenue, Air Stocking, Babor, Boscia, Burberry, Calvin Klein Fragrance, Dior, Elizabeth Arden, L'OCCITANE, Nina Ricci, St. Tropez, NARS, Urban Decay and LORAC.
So much is happening all the time in the beauty industry, so keep up with the happenings via the What's New and Latest Beauty Trend sections on the website.
Create your own account free online, order with ease, enjoy free shipping on orders over $25 or more on select products and read the helpful customer reviews to help with the decision making.
Beauty.com is the largest authorized retailer of prestige brands on the Internet, and is adding new brands every week! Beauty revolutionizes your beauty experience by creating one place where you can buy all the department store and boutique brands you could ever want, whenever you want. This online cosmetics store also brings you world-famous experts to advise you on what suits you best and which products are the finest on the market. Virtual makeovers, and other interactive features help make shopping at Beauty.com an entertaining and uplifting beauty experience. Backed with a money back guarantee, Beauty.com is your online superstore for all of your beauty products.
Close