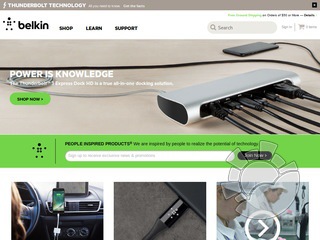 We currently have 2 Belkin coupons / deals.
About Belkin.com
Belkin International creates products that help people realize the power of technology as well as make people's lives better.It is a simple mission that has served them well since the company's inception in 1983. This company was founded by CEO, Chet Pipkin, in his parent's garage. From the start he focused on solving customer's needs. He manufactured computer cable assemblies in the evenings and on weekends, and sold them to local computer manufacturers and dealers in response as the personal computer market grew in the 1980's. Today they are based in Playa Vista, in the heart of the Los Angeles tech center. The focus is still on the customer all these years later.
Read more...
Belkin International has three brands – Belkin, Linksys and WeMo. Their products are known for their simplicity and ease of use, while the Linksys brand helped make wireless connectivity mainstream around the globe. WeMo, is the leader in customizable smart home experiences, helping people to monitor, measure and manage their electronics, appliances and lighting at home and on-the-go. The company aims to continue making lives better for many years to come. Find these products at Belkin.com.
Close