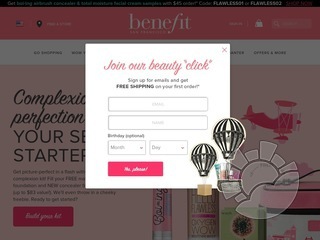 We currently have 2 Benefit Cosmetics coupons / deals.
About Benefit Cosmetics
Benefit Cosmetics was founded by twin sisters Jean and Jane Ford. The decision of opening their own business was left to fate and based on a coin toss, which would mean either a casserole cafe or a beauty boutique. The beauty boutique won and to this day many happy customers owe it all to that coin. It was named The Face Place in 1976 in San Francisco's Mission District. Their first product was a blush and lip tint called "Rose tint," known as "benetint" today, which is the company's best-selling product, with over 10 million bottles sold. In 1989, they had their own product catalog, which allowed the company to focus on department store distribution, and soon after, was renamed Benefit Cosmetics in 1990. The company continued to flourish. Benefit went international in 1997 with their expansion into Harrods in London. Soon after, the Benefit Cosmetics online store, BenefitCosmetics.com, was launched. In 2008, Jean's daughters Maggie and Annie joined the company, focusing on the Home Shopping Network business of the company as well as store openings worldwide. They have a smart friendly staff that puts the focus on customer satisfaction.