Bombay Company Closed
Bombay Company filed for bankruptcy in 2007 and all of their U.S. retail locations were closed by early 2008. The brand has persisted and BombayCompany.com still works, but is no longer an online store as it doesn't sell any products. The site just lists basic company information and retailers that carry their branded products, such as Amazon, Wayfair.com, Macys.com, and Kohls.com. We list discounts and promo codes for many online home stores, which you can find listed in our Furniture Coupons department.
Bombay Coupons & Promo Codes
There are no Bombay coupons available at this time.
Related Categories
Furniture
Home
Related Coupons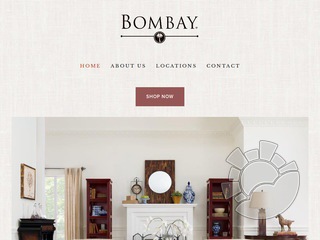 About Bombay
Your home is your castle, so why shouldn't it look like a palace? Whether your idea of a palace is something traditional, classical or even a little exotic, you can find it at BombayCompany.com. You can find bedroom, living room, dining room and office collections, so finding the right pieces of furniture is a piece of cake.
If you are just looking to spice up a room a bit, you can find accessories that you need to put the finishing touches to everything and dazzle your visitors. Maybe a nice picture frame, elegant clock, candles and holders and more is just what is needed to finish a room in style. If you want to decorate your walls, BombayCompany offers art prints, sconces, mirrors and other accents. These accessories will give your house an updated look and can easily change a whole room.
Read more...
At this home furniture store, you not only can buy a new bed for your bedroom, but you can also purchase luxurious linens. Imagine falling to sleep surrounded by beautiful sheets, pillows and throws made from rich cottons.
Hosting a dinner party can be a nice way to get friends together. At Bombay Co., they have everything that you need for your table to look its best. With one of their collections of plates, silverware, glasses, linens and more, you can get the look that you are trying to achieve.
A lot of people don't want to shop on the Internet for their furniture and home accessories, because they think the price of shipping and handling will make the piece too expensive. At this online store you don't have to worry about it, because a lot of the larger pieces can be delivered to your local store free of charge. When it is ready, they will contact you and you can pick it up.
If you want someone to buy you a present, you can put what you want on a wish list. Then whenever someone needs an idea, just show them the list, and they can easily get you exactly what you want. It's simple to both start your own list and find a friend's list. This is just one more reason why www.bombaycompany.com has everything that you need to make your home become your castle.
Close