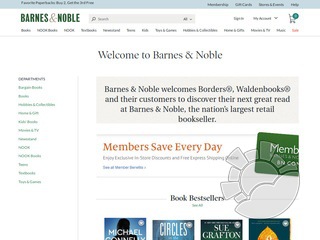 About Borders.com
The world's foremost vendor of books, movies and music has partnered with the internet's most popular shopping destination, Amazon.com. Customers can take advantage of Amazon's unrivaled catalog, unparalleled customer service, and the convenience of swift and often complimentary shipping, all coupled with specially-tailored Borders.com content.
Avid readers will find millions of books, including the latest New York Times best sellers, upcoming and new releases, Spanish books, magazines and textbooks. Each book listing includes valuable critic and customer reviews, allowing reader to make informed choices. The children's section makes locating age appropriate titles easy. A bargain books section offers deeply-discounted former bestsellers. With millions of online samples, music fans can effectively buy CDs risk-free. The DVD department offers the latest—as well as classic and obscure—movies, concerts, and TV shows. Gift cards, for use both in store and online, are also offered. A liberal return policy allows everyone to shop with confidence.
Read more...
Customers can watch exclusive videos online and download podcasts featuring interviews with acclaimed authors and literary authorities. Free content and exclusive recommendations can augment online and real world book clubs.
With more than 500 Borders store locations nationwide selling similar books and entertainment merchandise, as well as gifts, periodicals, and stationery, customers will easily find a proximate outlet using the online store locater. Avid readers can also view and search upcoming in-store events, such as book signings and lectures.
Borders is more than just a premier collection of books, music and video. They are also a terrific resource and community. In addition to powerful search capabilities, you can also browse hot new titles, essentials, award winners, and bestsellers in every subject.
Close