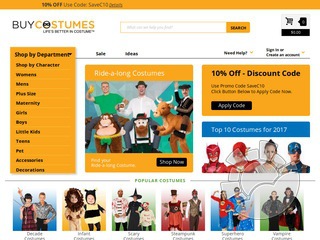 We currently have 2 Buy Costumes coupons / deals.
About Buy Costumes
Looking for a costume to wear for a Halloween party? After you discover www.buycostumes.com, you won't look for another site for your costume and party needs. This site carries over 10,000 costumes in over 120 different party themes; you can find something here that is scary, sweet, silly or sensational.
You can get costumes for adults, children and even pets. You can also get supplies to make the party a hit. Unlike stores that you see in the mall, you can buy Halloween masks, decorations and supplies year round. So if you get invited to a costume party in April, you don't have to worry about finding something to wear. Don't want to wear a costume on Halloween or to the costume ball? Don't worry, you can pair your regular clothing with a wig or mask to make it a bit more festive.
Read more...
Maybe you are stuck with planning a party, and don't know what type of decorations to purchase. Buy Costumes has great stuff for whatever the party. You can get inflatable palm trees and a tiki hut for your next beach themed party that people will really think are beyond cool.
Make planning the next child's birthday party a breeze with special birthday kits in the most popular characters from television and movies. These kits include the plates, cups, decorations and favors you need to make the birthday party a success.
BuyCostumes also carries the props that you need to use for your next theater production or fun things that you could put in your dress up box for your children to play with. Pirate hooks, sunglasses, make up to make you look gruesome or beautiful, fake fangs, guns, handbags and more are items that will spark the imagination.
Finding what you want is easy. Once you know what you are looking for (for example, an outfit for your dog, Rover), the choices are broken down even further, allowing you to search for a classic get-up, hats and collars, Christmas outfits and so on. This way, if you want to find something for a special occasion, you can find it with ease. You don't have to wait until October to buy a Halloween costume anymore. BuyCostumes.com has what you need for your whole family to choose what they want.
Close