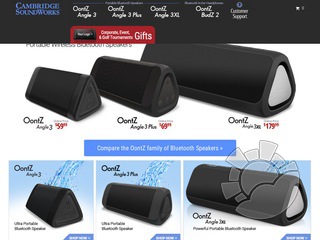 We currently have 1 Cambridge SoundWorks coupon / deal.
About Cambridge SoundWorks
Cambridge SoundWorks used to sell high quality, affordable home audio speakers. These days they are focussed on just the OontZ, a line of high end bluetooth spekaers and headphones. Cambridge SoundWorks used to operate HiFi.com (although that domain now redirects to the Creative.com speakers department). HiFi.com was the home of high-performance audio and video components on the internet. They strive to offer a combination of better brands, better customer service, better consumer protection policies and better values than any other consumer electronics website. They are re-inventing the process of buying good stereo and video products.