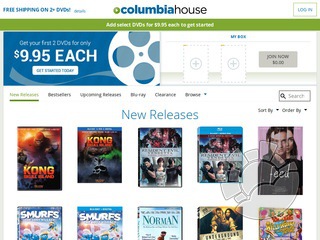 We currently have 1 Columbia House coupon / deal.
About Columbia House
The Columbia House DVD Club is the largest direct DVD movie marketer in the United States, and when you look at the selection they have to offer, it's easy to see why. From movie genres that span the entire spectrum, to thousands upon thousands of different titles to choose from, to their affordable club pricing, ColumbiaHouse is a great one-stop-shop for any movie buff.
ColumbiaHouse DVD Club is an easy, no-hassle subscription movie plan. At any given time, they offer a great introductory package where you can choose several DVDs for cents, and then subscribe to receive a movie once a month. If you choose to not receive your DVD in any given month, simply visit the website, log into your account, and request that they not mail your movie.
Read more...
As you browse through the selection of movies at www.columbiahouse.com, you'll find a lot of great tools at your disposal, like full movie credits, recommendations for other movies based on people who've bought a particular title, and a listing of extra features found on your desired DVD.
Columbia House DVD Club was launched in 1997, and since has become a giant supplier of movies to the public, boasting tens of thousands of titles to suit any movie watcher's preference.
Close