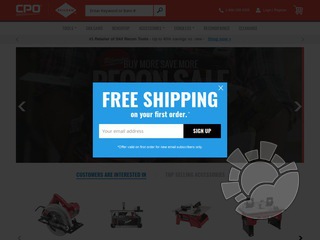 We currently have 3 CPO Skil coupons / deals.
About SkilShop.com
The most famous of SKIL power tools is the Skilsaw. As the first portable circular saw when it was introduced in 1924, the Skilsaw is almost legendary. It has seen continued improvement to make it a favorite among professionals. In fact, you would be hard pressed to find a construction site in America without one. Yet there are many other quality Skil tools that you can buy online at the CPO Skilsaw Store, SkilShop.com.
Read more...
Here you can find portable circular saws, benchtop table saws, drill drivers, drill presses, grinders, reciprocating saws, router tables, and much more. Check out the cordless tool combo kits for a bargain bundle. Shop the clearance sale section for deep discounts, or save on the factory reconditioned products that carry a warranty and a money-back guarantee.
Close