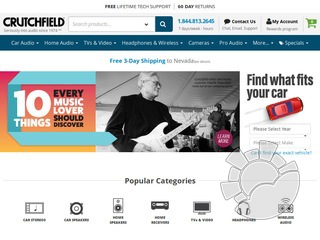 About Crutchfield
In 1974, Crutchfield, with a small mail order catalog operation, became one of the first American purveyors of car radio upgrades. Today, Crutchfield.com not only showcases the latest auto, home, and portable audio and video options, but backs their impressive catalogue with impeccable service, expert advice and rock-bottom prices.
Customers can choose from the latest satellite radios, CD players, DVD receivers, speakers, subwoofers, amplifiers, equalizers, sound processors, screens, rear view cameras and auto accessories. An elaborate 10,000 vehicle database assists users in finding gear that will fit in their car and specific guides aid in performing easy installations. Motorists will be impressed with free installation kits included with each car stereo purchase. An abundance of radar detectors, cellular phones, GPS navigation unit, security systems, power inverters and installation tools can completely furnish and secure any car. With included free lifetime technical support, the service here is second to none. Expert advice is available by phone and online.
Read more...
The site also offers medium and high-end audio and home theater components, including DVD recorders, HDTV tuners, receivers, amplifiers, DirecTV, speakers, plasma and LCD TVs, surround sound packages, headphones and accessories from Denon, Sony, Onkyo, Panasonic, Sharp and Bose. Mobile AV enthusiasts can find digital cameras, camcorders, photo printers, MP3 players, iPods, personal speakers and cellular phones.
Customers at www.crutchfield.com can save substantially on previously returned mint-condition merchandise in the outlet store. A scratch and dent department provides incredible value on equipment with minor cosmetic damage. Free shipping is available on most orders in all departments.
Close