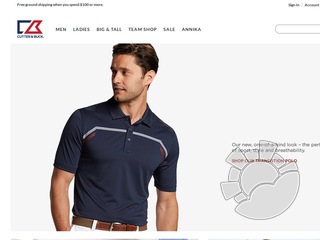 We currently have 2 Cutter & Buck coupons / deals.
About Cutter and Buck
Founded in the spirit of golf, Cutter & Buck was established in 1990 as the United State's premiere shop to purchase golf wear, sportswear, and high-quality casual wear. Cutter & Buck focuses on integrity, quality, and positive labor practices throughout the world, so you know everything you purchase through their store will be ethical, durable, and of the highest quality possible.
At the CutterBuck.com site, you can purchase menswear like polo shirts, t-shirts, sport shirts, sweaters, and pants, all in a large range of sizes to include even big and tall. They offer comfortable outerwear for golfers and sports enthusiasts alike, as well as leather bombers and blazers.
Read more...
The www.cutterbuck.com site also has an extensive women's wear collection for golfers, as well as skirts, blouses, capris, and sweaters that are perfect for the most casual of outings. Browsing through the CutterandBuck.com site, you'll also find beautiful accessories like earrings and handbags. And, of course, there's a large selection of golf accessories that amateurs and pros both use.
This premium golf apparel store also caters specifically to sports enthusiasts, offering signature clothing representing any professional team you support. From sweatshirts, pullovers, wind jackets, and more, you can proudly wear the logo of the team you're rooting for on high-quality, exceptional clothing of all kinds.
Close