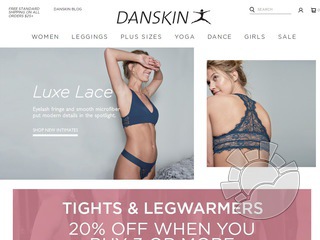 We currently have 2 Danskin coupons / deals.
About Danskin.com
Living a happy life means being fit and healthy. Keeping fit and healthy for you might involve fitness, dancing and yoga, and if it does, we think you'll like checking out this store. Danskin has been in the business of selling fitness, dance and yoga apparel for women and girls since 1882, and now that tradition of excellence lives on through their online store.
This company designs sports, fitness and comfortable clothes for women and girls from size 2T to women's size 26.
Read more...
There are three exciting departments to check out online: the Fitness department, the Dance department and the Yoga department. In the Fitness department, you'll find a huge range of tops, bottoms, leggings, triathlon products and best sellers. In the Dance department you will find leotards, tops, bottoms, dance shoes (including brand name Capezio shoes), dance dresses and skirts and accessories. In the Yoga department, you will discover a range of tops, bottoms and yoga/stretching gear (suitable for core and strength training). Best sellers are easy to find every time you visit, so be sure to check these out to see what's really hot right now.
In addition, at www.danskin.com you will also find gymnastic leotards for girls, and a range of plus size clothing for women. Be sure to check out the Sale Attic for the latest deals across to the range.
Gift certificates make gift giving a breeze and start from just $10, and there is also an email mailing list for anybody interested in exclusive promotions, offers and latest news on products and events.
Close