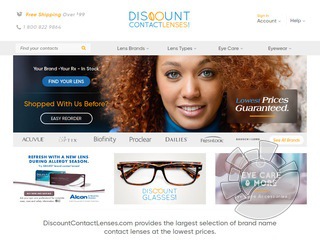 We currently have 1 Discount Contact Lenses coupon / deal including 1 promo code.
About Discount Contact Lenses
DiscountContactLenses is a rapidly growing company selling and delivering contacts and related accessories to customers in all 50 US States, Europe, South America and the Far East. No membership is required to this website, and you have access to all major brand contact lens products, which are sold online at an unbelievable 50-70% below retail!
Shopping is easy at this web site. Just browse by lens types such as daily disposables, 1-3 month disposable, 1-2 week disposable, colored, bifocal, toric, RGP (oxygen permeable), tinted and conventional vial lens. Shop according to the manufacturer such as Johnson & Johnson, Ciba Vision, Baush & Lomb, Boston, Vistalcon, Wesley-Jessen, Cooper Vision, Specialty Ultravision and OSI/American Hydron.
Read more...
A range of lens accessories are available for purchase online and includes contact lens cases, eye treatments, solutions and cleaners. Reading glasses are also available to buy with your choice of comfortable and stylish frames. Other accessories are also available, and to list them all here would be too exhaustive. Check out the store for further details and to see everything.
Domestic and international shipping is available with online order tracking, and there is a re-order system online that makes the re-order process so much easier. You don't need to enter your details more than once.
Ordering your contact lenses is now so much easier, since you don't need to leave your home or even pick up a phone.
Close