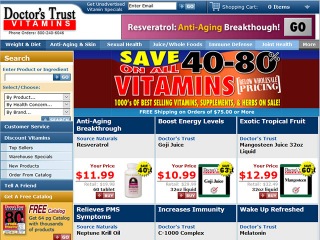 About Doctor's Trust
Doctor's Trust is a vitamin retailer with more than 75 years combined personnel experience. Via the online store, you can buy national brand supplements at wholesale prices.
The range of products is unbelievable, but shopping is easy. There are several easy ways you can shop online: search by product/ingredient, search by product type (e.g. acidophilus, cod liver oil, evening primrose oil, etc.), by health concern (e.g. children's health, headaches, intestinal health, stress, etc.) or by brand. A wide range of brands are carried in the store, including Berkeley Nutraceuticals, Source Naturals, Chattem Labs, Garden of Life, Twin Lab, Dr. Weil, Natra-Bio, Natural balance and Nature's Way.
Read more...
In addition, you can also take advantage of the quick shopping options. Check out the DoctorsTrust top sellers, the new products, order from catalog or take a look at the warehouse specials. It's up to you how you wish to browse and shop - whatever suits you best.
Delivery is available both nationally and internationally, and there is a Price Match Guarantee, which applies to all products for sale on the www.doctorstrust.com site.
If you like what you see, come back often to see vitamin specials and discount sales.
Close