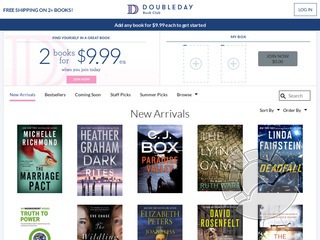 We currently have 2 Doubleday Book Club coupons / deals.
About Doubleday Book Club
For generations, avid readers have turned to convenient mail order book clubs to save money, build their home libraries, and discover new authors and titles. Double Day combines the value of conventional book clubs with the online convenience of the internet.
With membership at the time of this writing, customers select 5 books for 99 cents plus an additional selection for free. Customers agree to purchase only four more titles over the next two years. Each month members receive a club magazine by mail featuring discount offers, articles, previews, excerpts, reviews and recommendations. Orders can be made online or by returning the accompanying selection card.
Read more...
At www.doubledaybookclub.com they offer thousands of coveted hardcover titles at up to 60% off publishers' prices, many of which are available before being released in stores. Readers can choose from every conceivable genre, including African-American, biographies, children's, cooking, erotica, health and wellness, holiday, home, hobbies, mysteries, reference, religion, romance and thrillers. In addition to fiction and non-fiction books, members can choose from a selection of tote bags, music, calendars, DVDs, home decor, stationery and other merchandise.
The Double Day Book Club offers literary masterpieces from Stephen King, Danielle Steel, Dr. Phil McGraw, Dean Koontz, John Grisham, Sylvia Browne, James Patterson and others. Browsing by subject and searching by title, author, or keyword makes finding the right books easy. Hot titles are prominently showcased on the website and a free e-mail newsletter highlighting additional promotions and news is also available. Ordering is as simple as logging in and adding desired items to your virtual shopping cart. A generous return policy makes ordering risk free.
Close