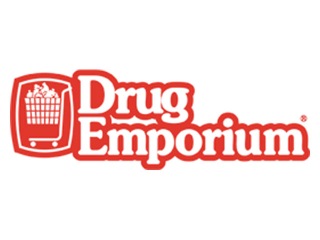 About Drug Emporium
HealthCentral, the parent of Vitamins.com and WebRx.com, filed for bankruptcy on October 10, 2001.
Drug Emporium has merged with WebRx.com. As a result of the merger, all orders will be taken at WebRx.com. Drug Emporium coupons currently work at the WebRx.
DrugEmporium.com is a full-service drugstore that combines the convenience and privacy of online shopping with a tremendous product selection and deep discount prices. DrugEmporium.com features a full service Pharmacy, wide acceptance of health insurance plans, integrated health information and news, 24-hour customer service, convenient shopping tools, and more than 20,000 products in 6 departments including-Beauty & Spa, Home & Family, Non-Prescription Drugs, Nutrition & Wellness, Personal Care, and Pharmaceuticals. DrugEmporium.com makes it easy for you to shop for the items you use every day.