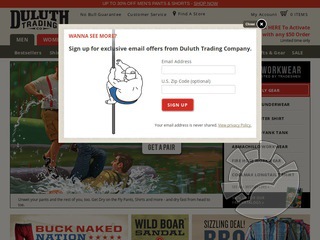 We currently have 2 Duluth Trading Company coupons / deals.
About Duluth Trading Company
Duluth Trading Co. has quite a history. It starts in 1989, with two brothers in Duluth, who were the wild and woolly, hippie tradesmen type. They worked in the construction business. Every day, they saw guys dragging tools from job to job using discarded five-gallon drywall compound buckets. The brothers knew there had to be a better way. So they invented the Bucket Boss – a durable canvas tool organizer that fit on a drywall bucket. Today, Bucket Boss is a trademark of Pull'r Holding Company, LLC.
Read more...
This led to a catalog called Portable Products. Under the heading "Job Tough, Job Smart," it offered 8 pages of products dedicated to improving tool storage, organization and transport.
In 1993 the brothers decided to expand their product line beyond tool organizers, and Portable Products became Duluth Trading. But the idea was the same: innovation for the job site. Every product was field tested on job sites by construction workers and other hard workers.
Innovation after innovation led them to where they are today. It all came full circle, because it is still about making life easier for the working man.
Close