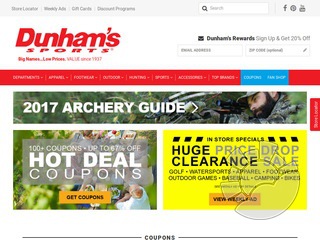 We currently have 1 Dunhams Sports coupon / deal.
About Dunhams Sports
Is getting in shape or improving your game your number one goal? Well, you are going to need some gear to do that. Dunham's Sports offers all the gear you need for fitness, sports, activity and fun at low prices.
Covering all sports and leisure activities, DunhamsSports offers only the brand names that represent quality. Adidas, Wilson, Timberland, Champion, Huffy, Jansport, New Balance, Reebok, Bowflex and Rawlings are just a few of the major brand names that you can find at this Internet sporting goods store.
Read more...
Whether you are just getting into a sport and want to get some basic equipment, or are a serious player, www.dunhamssports.com likely offers everything you need. Basketball, football, paintball, golf, hunting and fishing are just a few of the sports that you can buy all your equipment for at Dunham's Sports. In addition you can get exercise equipment to build your own home gym. Shop for it all from treadmills to weight machines and everything in between.
Looking for a great deal? Check out their clearance department, and you can easily find deals on whatever activity arouses your interest.
The next time you want to go out and enjoy life, but your gear isn't up to snuff, go to www.dunhamssports.com for all the latest and best gear to help you get in shape, stay active, or make the most out of your leisure and free time.
Dunhams Sports, one of the largest full-line sporting goods chains in the US, is now available to you online. Dunhams Sports offers a vast selection of top-quality, name brand products, and great value on their complete line of sporting goods, athletic equipment, active sports gear and leisure apparel.
Close