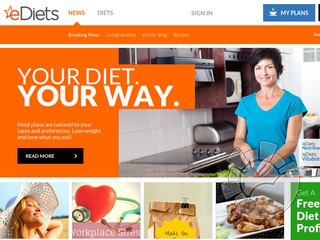 We currently have 1 eDiets.com coupon / deal.
About eDiets
Established in 1997, this website is a very comprehensive diet and fitness community, ezine and online store. The quality of the entire site is fantastic, and the store matches. You will be impressed with the large selection of items in the store.
There are six departments to check out in the store: Food, Equipment, Accessories, Supplements, Books/Videos/CD's and Diet Plans.
In the Ediets store, you will find a huge range of items including soy shakes, drinks & shakes, low/fat-free, low-carb, sugar-free, gift baskets, exercise equipment and weights. Also buy items like fitness balls, yoga & pilates gear, fitness machines, pedometers, heart rate monitors, spa kits, diabetic products, workout music and Swiss vitamin supplements. They even sell blood type supplements, self-help resources, general supplements, Bob Greene products and Leslie Sansone products. Plus there are books, videos and CD's for aerobics, belly dancing, yoga, pilates and tai chi. A range of diet plans including eDiets.com® Weight Loss Plan, Atkins®, The Mayo Clinic Plan and TrimKids™ are also available for purchase through the store.
Read more...
You can also shop by brand at www.ediets.com, and some of the brands include e Diets, Blood Type, SpaLook and Bob Greene.
Be sure to explore the New Items section as well, to see what's new. To help keep you motivated, you will also find inspirational editorial that includes expert articles, success stories and recipes.
Purchasing online is a breeze here and shipping is available within the US. You can also track your order online. Subscribe free to the online magazine and newsletter to keep informed.
Close