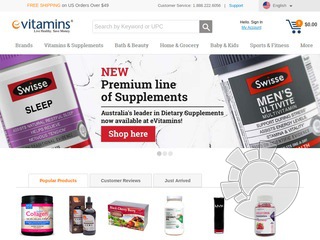 We currently have 1 eVitamins coupon / deal.
About eVitamins.com
Established in 1999, e vitamins.com is a retailer providing quality vitamins and the latest health information.
It's easy to browse through the huge range of products available here. Shop according to category, brand or products. Everything you need in terms of vitamin supplements, you'll find right here. Whether you are looking for products like acidophilus, green tea, garlic, horny goat weed, soy, calcium or tea tree oil, or you are looking to treat conditions such as stress, headaches, weight loss, fibromialgia or menopause. Shop for multivitamins, prenatal vitamins or vitamin supplements for A, B, C, D, E or K. A wide range of minerals is available as well such as potassium, calcium, magnesium, boron, zinc, selenium, chromium and trace minerals.
Read more...
The best brands are also at evitamins, and some of them include Alvita, Gaspari, Atkins, Green Foods, DermaE, Rainbow Light, Herbalife, Jon Tana, World Nutrition, Nutrex, Zicam, Natures Way, Pacific Health, Doctors Best and Thermalife.
Also, the service is second to none at this shop, because the staff will order in a product just for you, if you cannot find it already in stock. A great wealth of information relating to health is online and free to access including a health encyclopedia, health news and recipes.
Combine the abundance of useful product information at www.evitamins.com with the fact that shopping is easy, shipping is domestic and international and the service is great, and you're bound to absolutely love this site.
Close