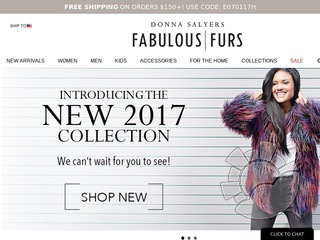 We currently have 1 Fabulous Furs coupon / deal.
About Fabulous Furs
Finally, an online store where you can choose from an staggering selection of men's garments, women's garments, kids and baby garments, home decor, gifts and accessories made from faux fur. That's right—absolutely no animals were harmed in creating the products that are on sale at Donna Salyers' Fabulous Furs!
With its products featuring on television and even in films including "You've Got Mail", it comes as no surprise that shopping here is an absolute experience.
Read more...
Browse the Women's, Men's and Kids and Baby departments and be amazed at the extensive range of coats, vests, wraps, jackets, parkas, sweaters, bomber jackets and capes. They all have the gorgeous look of fur, without the animal involvement.
Over in the Accessories department, you will be delighted with a gorgeous selection of sunglasses, shoes, fedoras, tote bags, scrunchies and gloves, just to name of few of things you'll find. Many of these items would make great gifts for friends and loved ones, and that's why you'll be able to cut to the chase by exploring the Gifts department, with an impressive selection of accessories including leopard print flip flops among many other things. There is also a fantastic Home and Throws section, with absolutely everything you need for the home from throws, through to pillows and storage boxes just to name a few.
Be sure to check back to this store regularly to discover what items are on sale, and which ones are brand new. If you love the gorgeous look of fur, but also love animals, you're bound to love this online store.
Close