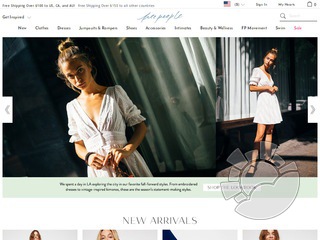 We currently have 2 Free People coupons / deals.
About FreePeople.com
In the 1970's Dick Hayne opened a store in West Philadelphia, Pennsylvania called Free People. It catered to young people in the area giving them freedom in the clothes they wore. A few stores later and the name changed to Urban Outfitters. He and his wife soon created a wholesale line and it eventually became Free People once again. At FreePeople.com you will find all of the latest shoes, jackets, dresses, accessories, beauty products and more. It is your destination for bohemian fashion. Brands include Intimately, Endless Summer, FP Beach, Mara Hoffman, Carolina K, Saylor, Nightcap, Backstage and more.