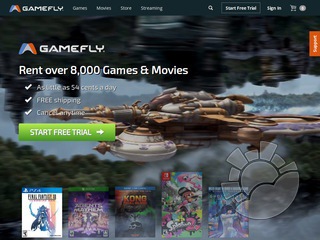 We currently have 2 GameFly coupons / deals.
About GameFly.com
GameFly is a tremendous way to rent and play video games without investing a lot of money. This is really important for most people that play games for awhile and then end up forgetting about them. Its also a terrific way to try out video games before you buy them. We all know how expensive video games are, and how disappointing it is if they don't live up to the hype, or are too easy to beat.
The way Game Fly works is simple: for a low monthly fee you can rent up to two video games at a time. Keep them as long as you want, because there aren't any late fees or due dates. After you send a videogame back, you'll get another one sent to you. You don't have to worry about postage, because both shipping to you and the return postage are included in the membership price. If you decide you love the game, you can purchase it at a special pre-played price. The longer you remain a member of this rental service, the better it is—you can earn valuable points to redeem for GameFly.com rewards.
Read more...
They have thousands of video games to fit your gaming style, and all the popular gaming systems. It doesn't matter if you have Xbox, Xbox360, Nintendo Wii, GameCube, Gameboy or Nintendo DS, or any of the Playstation machines, you can find the hottest games to entertain you.
One convenient feature about www.gamefly.com is that you can build a wishlist of games that you want to play in the future. When it's time to send you a video game, they'll send one off of your list. It's convenient for you, and you can receive your game as quickly as possible.
The next time you want to play a video game, but don't want to commit tons of cash on something you haven't played, try it out first using this online rental service.
Close