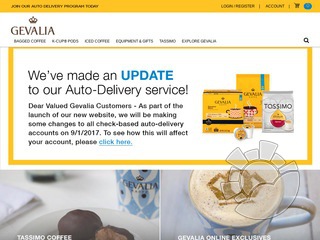 We currently have 3 Gevalia coupons / deals.
About Gevalia.com
For over 140 years, Gevalia has been in the coffee business, and today they have over 30 different varieties of coffee and more than 10 varieties of teas that have been tasted and enjoyed all over the world. You don't have to wait until your next trip to Europe to enjoy their coffees anymore; now you can experience the taste of fine coffee in the privacy of your own home.
Gevalia.com has expanded and in addition to delicious beverages, foodies can find everything they need to turn their kitchen from ordinary to gourmet. You can find the gadgets that will make your coffee and tea taste even better (if that is possible), machines to make your breakfast easier to prepare every morning, dessert mixes, specialty cookware and other conveniences for the kitchen and dining room.
Read more...
At www.gevalia.com, you can get your coffee and tea delivered to your door automatically every six weeks with the Gevalia Kaffe program. This is an easy way to try out new flavors and get great tasting coffee every day of the week. There is usually a free gift for signing up for this easy and convenient program.
Looking for a gift for a friend? Why not a gift basket? You can get baskets that are filled with delicious coffees, teas, chocolates, gourmet treats, and baskets to make a meal unforgettable. If you want, you can design your own basket, putting in only the items that you think the recipient would enjoy receiving.
If you are responsible for purchasing the coffee and tea for your office, you can change the way the people you work with look in the morning. No longer will your coworkers drag themselves around the office; instead they will be happy to come to work, just to get a rich tasting cup of coffee.
Whether you like one cup of coffee a day or a whole pot, you can be rest assured the products offered here are an excellent and delicious choice. The company is so committed to coffee that they have started projects in some of the countries where they get their beans to help improve the living standards and way that coffee is produced. They are an excellent choice, and you will taste their years of experience in every cup.
Close