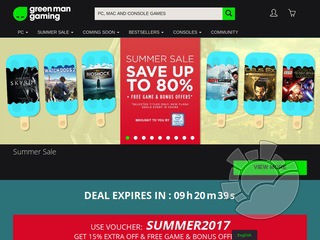 We currently have 3 Green Man Gaming coupons / deals.
About Green Man Gaming
GreenManGaming.com is an eCommerce store and community that offers over 8,500 digital multi-platform games from 550 publishers to gamers in 195 countries. They also cover the latest game insights and information. It is a site known to gamers far and wide. Millions of gamers have access to a single destination that allows them to discuss, discover and share all things gaming within a robust community. This includes things like game data tracking, reviews as well as expert insights on Green Man Gaming's game hubs, blog and newsroom. If you are part of gaming culture, you need to be a part of this site.
Read more...
Green Man Gaming partners with game publishers and leading hardware manufacturers to support their marketing initiatives as well. And now their digital storefront is being made available on millions of Lenovo laptops worldwide through the Lenovo Entertainment Hub. They have also partnered with Intel to build and manage their software distribution hub which offers digital games to over 1,000 hardware partners as part of the Intel Partner Program. As you can see, they are constantly growing and offering more and more to their customers. At this point, it is hard to believe that any gamer would not know about this amazing website.
Close