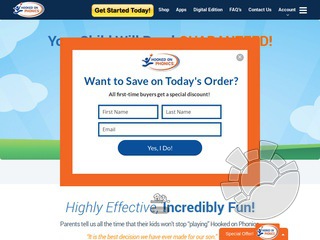 We currently have 1 Hooked on Phonics coupon / deal.
About Hooked on Phonics
This website probably has absolutely everything parents and teachers are looking for in the world of the Hocked on Phonics learning realm in one convenient place. The HookedOnPhonics game has helped thousands of kids learn the intricacies of grammar and language and brought their grades up as well as prepared young kindergarten aged children for spelling tests in later school years. Online you can learn about how the program works and how your child actually learns and develops using it. In addition to the famous systems for helping children learn to read, they now have similar programs to teach math, spelling, science and more. For the Christian children of the world, why not try out Hooked on the Bible?
Read more...
The fascinating world of hooking your child onto the reading skills they will need for their entire life starts and ends here. Children's learning is integral to the program, and the product creators understand that kid's education is very important both to the future of the child and to the parents at this young age. The product line is set out on www.hop.com by age groups and it is easy to identify which programs are for your child from three to eight years of age. If you feel that your child might need reading, math, spelling, handwriting, language or study help but aren't sure where to start, a product recommendation tool provides guidance for you when it comes to choosing the right package.
The game isn't just for parents, either; a section for educators is also here with some valuable information for teachers on the grant programs that may be available.
Close