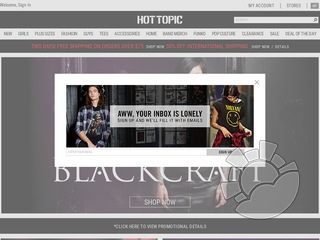 We currently have 5 Hot Topic coupons / deals.
About HotTopic.com
Hot Topic started in 1988 and would soon become "The loudest store in the mall." Many teen retail accessory stores littered the malls, but there weren't any cool, music-inspired accessory stores for both guys and girls. Until this store came around.
In 1990 they added apparel with band T-shirts. Customers flipped when they walked into Hot Topic stores and saw their favorite bands on shirts. Within a year, they offered about 50 different band titles, along with rock-inspired clothing lines like Lip Service and Serious. Soon they discovered that customers were also drawn to the underground cartoon, cult movie, and comic book scenes, so the store delivered.
Read more...
Today, Hot Topic offers band-related apparel and accessories, licensed merchandise, and fashion apparel and accessories, at more than 600 stores. They continue to offer what teens want.
HotTopic.com make it easy to shop online where you can quickly browse categories like Girls, Guys, Plus Size, Fashion, Tees, Accessories, Band Merch, Pop Culture, and Funko. You can also browse the latest products in New, or find great discounts in the Clearance, Sale, and Deal of the Day sections.
Close