Ink Plus Toner Coupons & Promo Codes
Save on printer ink and toner cartridges with the following InkPlusToner coupons. InkPlusToner.com sells OEM and generic inkjet cartridges, laser toner, photo paper and refill kits. Brands covered include Epson, Canon, Brother, Dell, HP, Lexmark, Xerox, Pitney Bowes, Kodak, Kyocera, and more. To activate your deal, just click on any of the discount offers below and enter the Ink Plus Toner promotion code (if we list one) before you finalize your order.
Related Categories
Computers
Office Supplies
Printers & Ink
Related Coupons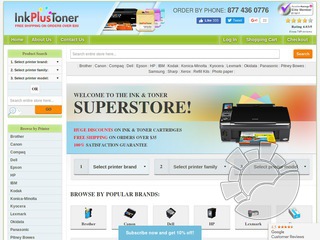 We currently have 1 Ink Plus Toner coupon / deal.
About Ink Plus Toner
Shop online at www.inkplustoner.com for cheap generic replacement printer ink cartridges for Brother, Canon, HP, Lexmark, Epson, Dell, Apple, Compaq, Konica, IBM, Kodak, Xerox, Sharp, Pitney Bowes, Minolta and Sony printers. Also shop for discount laser toner cartridges for Samsung, Hewlett Packard, Canon, Brother, Xerox and Lexmark laser printers.
You can also find OEM (Original Equipment Manufacturer) inkjet cartridges. Although these are not as cheap as generic replacement cartridges, they are often available at a discount off the list prices. They even sell photo paper.
Read more...
For huge savings, consider buying the inkjet refill kits. Whether you are refilling black or color cartridges, you can save a lot of money. For even greater savings, get free shipping on all orders from InkPlusToner.
Close