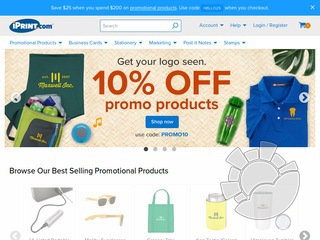 We currently have 8 iPrint coupons / deals including 4 promo codes.
About iPrint.com
Quick, tell me where you can get business cards, stationary, personalized envelopes, notepads, labels, flyers, brochures, rubber stamps, address stamps, postcards, magnetic signs, business checks, photo mugs, t-shirts, postcards and more. If you said at iPrint.com, you are right. This Internet printing company offers everything you need for your business and your home.
Unlike traditional printing shops, the prices at i Print are really competitive. And unlike other shops, their prices are readily available. In many printing shops, they want you to lay out the entire project before they will quote you a price. This way, you've already invested a lot of time and you won't balk at the outrageous prices. At IPrint, you can find out how much a full color set of business cards are going to cost, before you even start the design process.
Read more...
A really great gift for someone looking for a job is a personalized stationary set. This makes sending out resumes and cover letters look a whole lot nicer and more professional. If you are moving to a new home, telling all of your friends may be difficult. You can get a set of personalized postcards from www.iprint.com to send to all of your friends and family that will tell them your new address. While you are at it, pick up a set of address labels or an address stamper to speed up bill paying and letter writing.
Personalized photo products are also hot sellers at I-Print. You can get your photo put on a lot of different surfaces, including t-shirts, mouse pads, coffee mugs or calendars. This is a great way to show off your kids or grandkids to everybody that you pass by!
The next time you need something printed out, you can get fast service, excellent prices and a huge variety of choices for both your home and business at www.iprint.com. Setting up your project is a piece of cake and the customer service is friendly and fast.
Close