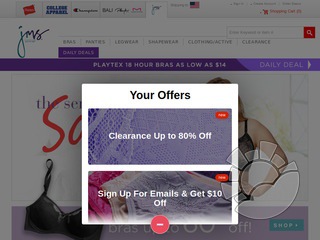 We currently have 1 Just My Size coupon / deal.
About JustMySize.com
JMS offers the most extensive line of clothing, lingerie, bras, panties, workout clothes, and loungewear for women of a certain size. Mens wear and kids clothing is also available; you can find Hanes, Chaps and Champion brands of underwear, socks and fleecewear.
JustMySize brand and other foremost brand names in sizes that really fit properly are featured here along with miraculous online fit guides and bra finders and shopping by shape features to make your shopping experience better than ever, especially if you are usually hard to fit. Bras here are in sized 38A to 58J and clothing in sizes from 14W to 40W so you are sure to find just your size! JustMySize is also for talls, petites and maternity.
Read more...
Goddess, Leaping Lady, Playtex, Champion and Bali are all at JustMySize.com in a vast array of sizes for your perfect fitting bras in underwire, wirefree, minimizer, sports bras and front hook bras. Plus sized swimwear, exercise t-shirts and workout clothing can be found on the www.justmysize.com webstie as well as a wide range of jeans, fleece and bras.
If you are a plus sized woman, a fabulous fit is just around the corner for you. Get online to JMS.com and shop 'til you drop for all the styles and shapes that are just right. Petites and Tall ladies' clothing also has a home on www.jms.com, with petite skirts, tall skirts and jeans, and extra long cardigan sweaters available in slimming colors and shapes. Women who usually have trouble finding clothing in their sizes have a haven in JMS.
Close