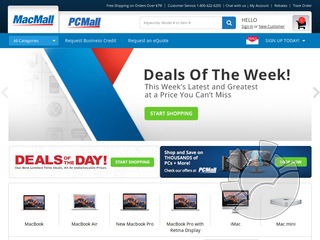 We currently have 33 MacMall coupons / deals including 3 promo codes. 7 are new and 6 recently expired.
About Mac Mall
Macintosh computers have always garnered a sizable legion of loyal fans. Now that Apple computers use Intel processors that can capably run Microsoft Windows, millions more are surely slated to enjoy premium quality computing. Macmall.com is not only an authorized vendor, but happens to be the number one direct reseller.
Mac Mall stocks the latest laptop and desktop computers including the mini, Mac Pro, iMac, and MacBook in both Pro and standard configurations. Discontinued models are always sold at a hefty discount. Customers can augment their systems with the latest cables, PDAs, webcams, mice, keyboards, monitors, wireless networking gears, hard drives, DVD drives, memory, power protection, projectors, scanners, printers and video cards.
Read more...
The extensive software selection features antivirus, backup, business, children's, education, gaming, graphics, language, music, networking, photography, finance, reference, utilities, security, web and video software.
The iPod store sells shuffle, nano, and video versions of the popular MP3 player, all at a discount. Buyers will receive complimentary engraving and valuable bonus accessories with purchase. Older models are available for added savings. Customers can choose from a wide array of batteries, cables, chargers, docks, transmitters, headphones, media readers, speakers and remotes.
The business store highlights pertinent productivity software and showcases complete computing packages with laser printers.
At www.macmall.com you can even buy the latest electronics, including camcorders, digital cameras, DVD players, GPS, home theater, speakers, telephones, TiVo, and LCD, plasma and DLP televisions.
Most items are sold at a discount, which is a rarity for genuine Apple products, and many hardware items include exclusive bonus items, which are not available when shopping directly with Apple.
Close