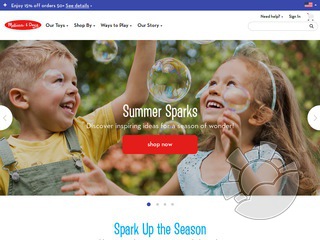 We currently have 3 Melissa & Doug coupons / deals including 2 promo codes. 1 is new and 1 recently expired.
About Melissa and Doug
Melissa and Doug have been together for over 30 years and in that time have built a toy company that both kids and parents love. At MelissaAndDoug.com you can find a wide range of creative and hand developed toys including activity pads, arts and crafts, baby and toddler toys, games,musical instruments, puppets, stuffed animals, vehicles and more. In a world where kids are playing with actual toys less and less, they want to put the fun back in playtime.