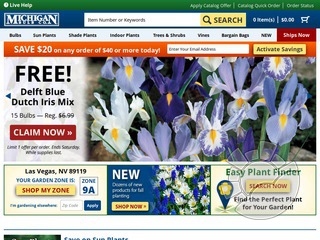 We currently have 3 Michigan Bulb Company coupons / deals.
About Michigan Bulb Company
The Michigan Bulb Company offers an extremely unique online store, because it is an online nursery. Here you can buy flowers and a whole range of plants to make your garden beautiful. You can even buy for friends or family and whoever you want.
As is the case when you visit a real-life nursery, there are a lot of departments at MichiganBulb's online store. Anyone can shop for bulbs, trees, perennials, ground cover, roses, fruits, shrubs, hedges, vines, collections and tools.
Read more...
You will find a thorough selection of plants and trees at www.michiganbulb.com, including roses, tulips, lillies, dahlias, creeping myrtle, irish moss and white dogwood trees. Buy Japanese green maples, blueberries, strawberries or grapes. Shop for blue moon hydrangea, honeysuckle vines, sweet lavender, primrose lilac, climbing shell plants, hibiscus, chamelion flower, blue girl rose and mint julep roses. Also purchase items in their rose collection or hydrangea collection, and find products like bulb baskets, plant supports and planters. Absolutely everything you need for your garden, you'll likely find at his co.
To make your shopping experience easier and less time-consuming, check out the Hot Sellers and Money-Saving Collections. You can also request a free copy of their catalog. Visit the home page often to learn of special offers, plus gardening tips!
Ordering is easy, and phone orders are welcomed too. Shipping is to all 48 contiguous US States.
Close