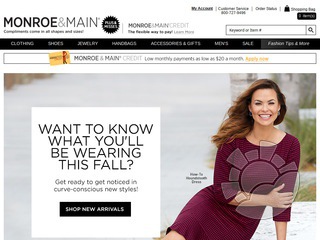 We currently have 8 Monroe & Main coupons / deals.
About Monroe & Main
Monroe & Main gives the woman shopper everything that she needs to look and feel great about herself. Catering to any size of woman and to women with any style from casual to formal, this online apparel shop has everything you need to look great in the office, on the weekend and around home.
Monroe&Main really wants women to look their best possible, even offering lucky shoppers the chance at getting a makeover to make their wardrobe look even better. Even if you don't win a makeover, you still can get the clothing that you want now. The "Choose 'N Charge" program that they offer allows shoppers to pay for their purchases with an easy credit plan. You can get the clothes that you want without waiting.
Read more...
Finding what you want at www.monroeandmain.com is really simple. Just choose a category, for example, shoes, jewelry, misses, plus sizes, handbags and accessories, gifts, beauty and gifts, and then browse. When you are looking for something specific, you can search by keyword, which makes finding all the latest fashions easy.
You will be really surprised to learn that you can get clothing (and the accessories to match) for all four seasons at MonroeAndMain. The quality is great and from a lot of different brand names that women recognize and trust. For example, in the shoe department, you can pick up Hush Puppies Sandal, or a pair of Clarks casual shoes. If you want to give a gift for a special friend or yourself, you can get DKNY, Dolce & Gabbana, Versace and Calvin Klein perfumes with the freshest scents. You can get everything fashion related at this shoes and clothing store.
Close