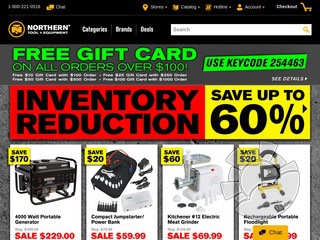 We currently have 10 Northern Tool coupons / deals.
About Northern Tool
What can you see in your garage? Even if you don't have any room left in your garage, you are going to want to make room for the tools and toys that you can find at NorthernTool.com. You can find pressure washers, what you need for automotive repair, maintenance tools for your lawn and garden, power equipment and more.
The motto of Northern Tool and Equipment is "where warriors prepare for battle," and they have all of the tools you need to fix whatever needs fixing, make your yard look nicer and have a bit of fun. You can find go-karts, pressure washers, paint sprayers, trailers, engines, generators, hand tools, water pumps, safety gear, ramps, lawn mowers, logging equipment and more.
Read more...
The quality of the products at NorthernTool.com will definitely live up to the hype. You can find the following brands that you may already be using at your workspace, including Buyers, Honda Enginges, Northstar, Agri-Fab, Hobarts, Briggs & Stratton, Milwaukee, Mr. Heater, Ingersoll Rand and Husqvarna.
Whether you are looking for something in particular or just browsing to see what is new, chances are you will find something on www.northerntool.com that sparks your interest or reminds you of a project that you wanted to do. You can browse by category, or search by keyword, entering in exactly what you are looking for. Either way, you'll have a lot of choices, which will allow you to make a decision based on how you are going to use the product. If you have a catalog, and want to order from that, you can easily add those items to your cart and shop for more.
The next time that you are looking for tools, outdoor equipment, and gear for your car or truck, NorthernTools.com is the place to get all of it. You'll be surprised at the variety of the products here, enough to fill every garage with the best tools!
Close