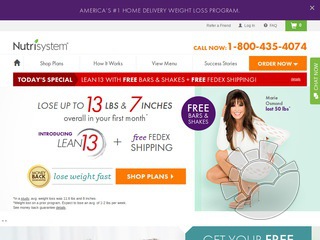 We currently have 2 Nutrisystem coupons / deals.
About Nutri System
For dozens of years, Nutrisystem has been helping people of all ages lose weight healthily. Now, their fantastic program and large menu are online, enabling you to order food, read up-to-date health information and access their nutritionists, counselors and dieticians for free when you join their program for healthy nutrition and losing weight fast.
Nutri-System features specialized food programs for people of any age including women, women over 60, men, men over 60, type II diabetics and all-vegetarian menus. Simply sign up for a month (or recurring shipments) of healthy and nutritious food, and they'll ship everything you need to eat for an entire 4 weeks directly to your door. Just add some grocery food like vegetables, fresh fruit, dairy and salads to make your meal fresh and complete.
Read more...
It's easy to lose weight with the Nutrisystem program, as there's no counting calories and no worry over what you're going to eat. Each meal, including breakfast, lunch, dinner, and even snacks, is carefully prepared to meet your specific requirements. All you have to do is stick to their designed healthy meal plan and watch the pounds fall off fast.
Nutrisystem.com also carries other products to help you in your weight loss journey, like fitness equipment, high-quality vitamins and supplements, the Body Boost program which helps you shed weight quickly over a period of three days, milk alternatives, as well as a la carte meals you can purchase one at a time.
Weight loss programs for men and women with special programs for the over 60's, vegetarians and those with type II diabetes are the staple diet of Nutrisystem. A free diet analysis gets you started. Each page is crammed with information. An overview of the Nutri System approach is given complete with tips and listings of the most appropriate products for you broken down by breakfast, lunch, dinner, desserts and snacks. Success stories from satisfied customers are supported by photographic evidence and the FAQs page is, frankly, exhaustive. A "live help" chat option is provided to get interactive advice online or by phone.
Close