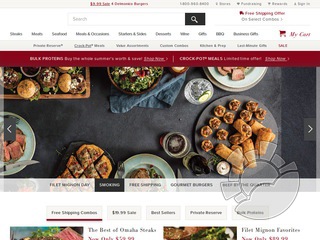 We currently have 2 Omaha Steaks coupons / deals.
About Omaha Steaks
If you thought it would be impossible to sell steak online, think again. Omaha Steaks is a fantastic, highly successful online business, which started out (offline) back in 1917. This family business manufacturers, markets and distributes premium steak, red meat and a range of gourmet food. Now you can enjoy the tradition for yourself or share it with a friend as a gift.
There are 13 different departments to check out in this store with products like premium beef, pork, lamb, veal, poultry, seafood, classic pastas, delectable desserts, appetizers, sauces and seasonings and side dishes. They even offer specialty selections, gift plans, gift ideas, pet treats and cookbooks.
Read more...
You will find virtually everything you can think of when it comes to meats on this website including such high-end cuts as filet mignon, prime rib, sirloin steaks, T-bone, porter house and specialty steaks. Also find burgers, beef roasts, ham, lamb legs, chops, chicken breasts, popular poultry favorites, turkey entrees and stuffed chicken breasts. They also offer seafood such as lobster, salmon, crab and shrimp. It doesn't end there, as you can also buy lasagna, ravioli, appetizers, traditional favorites, vegetables, seasoned butter sauces, steak seasoning, coffee, breads, soups, snacks, Kosher foods, monthly and quarterly gift plans, cakes, cheesecakes, sweet treats, and even pet steak treats!
Be sure to check out the best sellers section for popular choices and take a look at the delicious online recipes. Ordering is easy, and delivery is to the US, Alaska/Hawaii, Puerto Rico and Virgin Islands. Expedited and overnight shipping is available.
You can also become a member for free, and enjoy a personalized address book, My Gourmet Favorites and order history.
Close