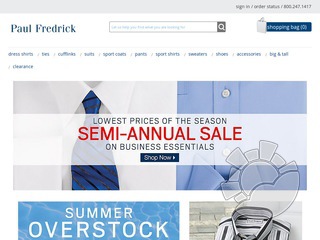 We currently have 2 Paul Fredrick coupons / deals.
About Paul Fredrick
Paul Fredrick is one of the leading designers and retailers for affordable, functional menswear. Established in 1986, Paul Frederick has taken their successful specialty stores and catalogue business straight to the web. From their site, you can purchase menswear for just about any occasion you can imagine.
PaulFredrick.com offers men solutions to their everyday wardrobes by offering affordable, quality clothes like dress shirts, neckwear, sweaters, and sports shirts. They also offer a great custom dress shirt option, wherein you can design your own shirt to your own personal specifications. After that, PaulFredrick will store your measurements and requirements for any future order you may place.
Read more...
At www.PaulFredrick.com, you can also shop for and order accessories like unique cufflinks, quality leather belts, and socks. And if formal wear is a necessity, PaulFredrick sells flawless tuxedos, cummerbunds, and bowties.
After you've had a chance to browse the large selection of quality men's clothing offered on PaulFredrick, you can also sign up to receive their print catalog—for free—delivered directly to your mailbox.
Close