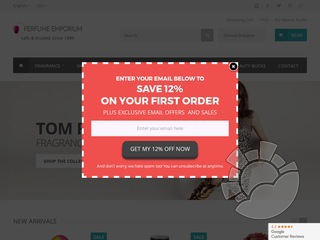 About Perfume Emporium
Love designer perfumes, but hate the designer price tag? Not a problem, thanks to Perfume Emporium! Here you can buy the best designer fragrances, colognes, perfumes and skin care products for men and women, at low discounted prices.
There's just so much to see here. Browse according to the four major sections: Women's, Men's, Skin Care and Candles. You will find fragrances for men and women, gift sets, bath & body products, minis, cleansers, toners, anti-aging products, eye masks and moisturizers. Also order sun care products, decorative candles, basic candles and gifts. You're sure to find exactly what you are looking for, right at this extensive website.
Read more...
It also helps that the very best designers can be found here too, and they include Anna Sui, Balenciaga, Banana Republic, Calvin Klein, Cartier, Chanel, Diesel, Gap, Giorgio Armani and Hugo Boss.
Customers are rewarded well when they shop at the www.perfumeemporium.com store. Beauty Bucks is the rewards program, where you earn Beauty Bucks to go towards future purchases when you shop. You also receive rewards when you refer others to shop here. Shopping is so easy too, with nation-wide delivery available.
On the website, you can also find great beauty tips, and you can read the forums to discuss a specific frangrance, type of cologne, brand of make up, etc.
Close