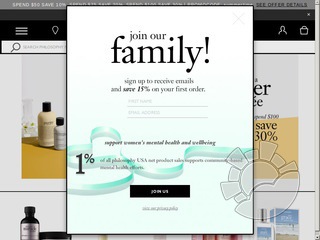 We currently have 2 Philosophy coupons / deals.
About Philosophy.com
They say that beauty is skin deep. That is a good philosophy. Speaking of philosophy, Philosophy was founded in 1996 and since the beginning has been all about dermatological science and biomedic treatments. They know skin and skin issues. Their goal is to fill in the void of what is offered by dermatologists and retail, so that you have the best skin care products that you can get. They have Oprah's endorsement. They appeared on Oprah in 1996. In 1999 they partnered with QVC and were the first prestige beauty brand to do so. Others have followed, but they were the first. There were many other milestones in their rise to the top and today they are bigger than ever. The emphasis is taking care of you. Not just your skin, but with excellent customer service as well.
Read more...
At Philosophy.com, you can browse the bestsellers to see what everyone else likes, the outlet for a deal, or the gifts department to choose a gift. You can also shop by category, such as skin care, bath & body, or fragrances.
Close