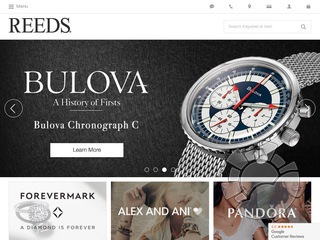 We currently have 3 Reeds Jewelers coupons / deals including 1 promo code.
About Reeds.com
Reeds Jewelry offers necklaces, rings, earrings, bracelets, chains, and more for the whole family to wear. Offering only the highest quality jewelry, your family will be able to hand it down from family member to family member to enjoy for years, decades and generations. Unlike other types of jewelry stores, at Reeds.com, you can find jewelry for men, women, teenagers, children and even babies.
Read more...
The products for sale at Reed's is fine jewelry that you would be proud to wear. Because they are a member of both the Jewelers of America and the Diamond Council of America it means that their standards are high. You are going to get great quality jewelry from some of the best brands. Some of these top brands that are available for sale include Honora, Fendi, Imagine Designs, Zodiac, Emporio Armani, Vanna K and Yvel.
You may just want to browse all the stunning products, but if you are looking for a particular item, it is going to be easy to find. For example, if you want to purchase a special necklace for your daughter, just choose teen or children's jewelry. You can narrow down your search even more by selecting the type of material (gold, silver, etc.); the cost; and the color of the jewelry (for example, if your daughter's favorite color is red, but you don't know if you want a garnet or a ruby, you can search for all the jewelry that has red stones in it).
An interesting thing about buying online at Reed's Jewelry is that you can design your own ring. If you are looking for a special engagement or wedding band, you can get one that is 100% unique. You can start by choosing the mounting that is what you dreamed of or choose the diamond first. Either way, you can see what your ring is going to look like (and how much it is going to cost). It is a really interesting way to make the perfect ring.
Whatever you are looking for, you will be impressed with the prices at www.reeds.com. Quality is expensive, but this jeweler manage to give you truly beautiful pieces at prices that will surprise you.
Close