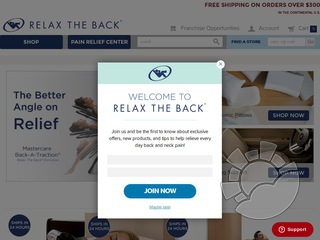 We currently have 2 Relax The Back coupons / deals.
About Relax The Back
Your journey to a healthy back begins at Relax the Back. This store offers the widest variety on the internet in healthful back care. Their commitment is to providing consumers with the highest quality, most effective posture products, muscle relaxing products, and therapeutic back accessories.
From their website, you can research and purchase powerful and relaxing massage chairs in a variety of prices and functions. Choose between shiatsu massage chairs, to today's top-of-the-line relaxation furniture in their signature lines like i-Joy, Interactive Health and Premier Health. Or check out their posture-perfect recliners in a variety of styles, including zero-gravity chairs.
Read more...
At www.RelaxtheBack.com, you can also find personal accessories like comfy pillows and back-saving travel bags, handbags and backpacks. Or shop their wide variety of exercise and therapy products, including fitness balls, foot care products, support belts and inversion tables.
Massage accessories and personal massagers are also something they specialize in, offering a magnificent selection of massage tables, hand-held massagers and foot massagers. RelaxTheBack carries a great assortment of informative, up-to-date fitness videos, like pilates and yoga, as well as books dedicated to health, fitness and relaxation.
While you're there, don't forget to browse through their mind boggling selection of mattresses, pillows, and other sleep accessories that are the key to good spine health. They also offer a great line of office products, ergonomic chairs, workstations and keyboards to help keep your body in alignment at all times.
Close