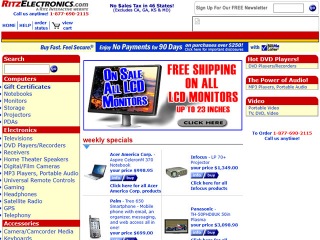 About Ritz Electronics
Ritz Electronics is an online electronics store from Ritz Interactive, the company behind RitzCamera.com, WolfCamera.com, BoatersWorld.com, and FishingOnly.com. You can shop for computers, electronics, and accessories.
At RitzElectronics.com, computer products on sale include laptops, monitors, projectors, PDAs, and storage devices. Their electronics department has televisions, DVD players, home theater receivers, digital cameras, film cameras, MP3 players, headphones, GPS systems, telephones, satellite radios, and universal remote controls. In the accessories section you'll find blank computer media, keyboards, mice, cases, speakers, video cards, and security products.