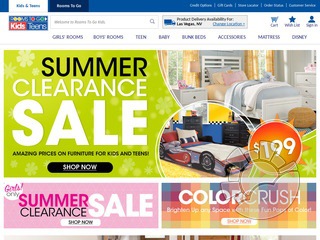 We currently have 1 Rooms To Go Kids coupon / deal.
About Rooms To Go Kids
Just because they are kids, doesn't mean that they don't want their bedrooms to look as nice as possible. Instead of buying adult furniture, you can get children's furniture to make their rooms a lot more personalized and a lot more special for them. Go to www.roomstogokids.com.
Rooms To Go Kids has been around since 1997, and they strive to make furniture that is not only safe, affordable and practical but also something that children and teens will feel comfortable using. As America's largest retailer of children's and teenager's furniture, Rooms-To-Go-Kids has the experience and the wide range of products for every parent.
Read more...
So what exactly can you buy at RoomsToGoKids.com? You can buy just about anything you want to make a child's bedroom look special. At this online furniture store, you can find licensed Disney furniture; you can have beds, rugs, tables, chairs, and wardrobes all in your favorite Disney character or from your favorite Disney movie. What little girl wouldn't want a Winnie the Pooh dresser, nightstand and mirror set? And what little boy wouldn't want a Pirates of the Caribbean bed that is shaped like a pirate ship?
Finding what you need is really easy; you can search by style, for example finding Mission furniture or furniture inspired by your child's favorite movie. Or, if you're looking for a specific piece, for example, a desk, vanity, bedding, entertainment center, book case or toy chest, you can choose the category and browse.
It doesn't matter if you want to surprise your children or let them design their room by themselves, getting furniture from RoomsToGoKids that is suited for them is a real treat, and is going to make the room look whole lot better.
Close